bemyfriends Expands Support for Global Businesses With New b.stage Functions That Strengthen the Power of Fandom
SaaS solution's expanded language support empowers more fans to interact with platforms and create their own
Dashboard's ability to identify users' nationalities opens up a new world of opportunities for global fandom businesses

SEOUL, Korea
–
November 23, 2022
–
Global fandom business startup bemyfriends has announced the launch of new b.stage features designed to remove barriers to fandom in overseas markets.
bemyfriends' hero solution, b.stage, is an all-in-one, web-based SaaS solution that provides the content, commerce, community, and membership services companies and creators need to manage their global fandom business. The solution makes it simple and convenient for creators, IP holders, entertainment studios, and more to establish their very own platform for their fans and grow their business.
Recently, the number of b.stage-powered platforms with fans in various countries has increased. To offer platform owners and their global fans a more convenient experience, bemyfriends has enhanced b.stage with two significant new features.
The first convenient enhancement raises b.stage's supported languages from two to five. Now, in addition to supporting both English and Korean, the solution also includes support for Japanese, Chinese (traditional and simplified), and Spanish. The expansion empowers more fans around the world to use platforms in their own language. Once the b.stage-powered platform has built up, its owners have the option to present it in multiple languages to cater to their global fans. All menus, posts, and product names will be presented to fans in their selected language.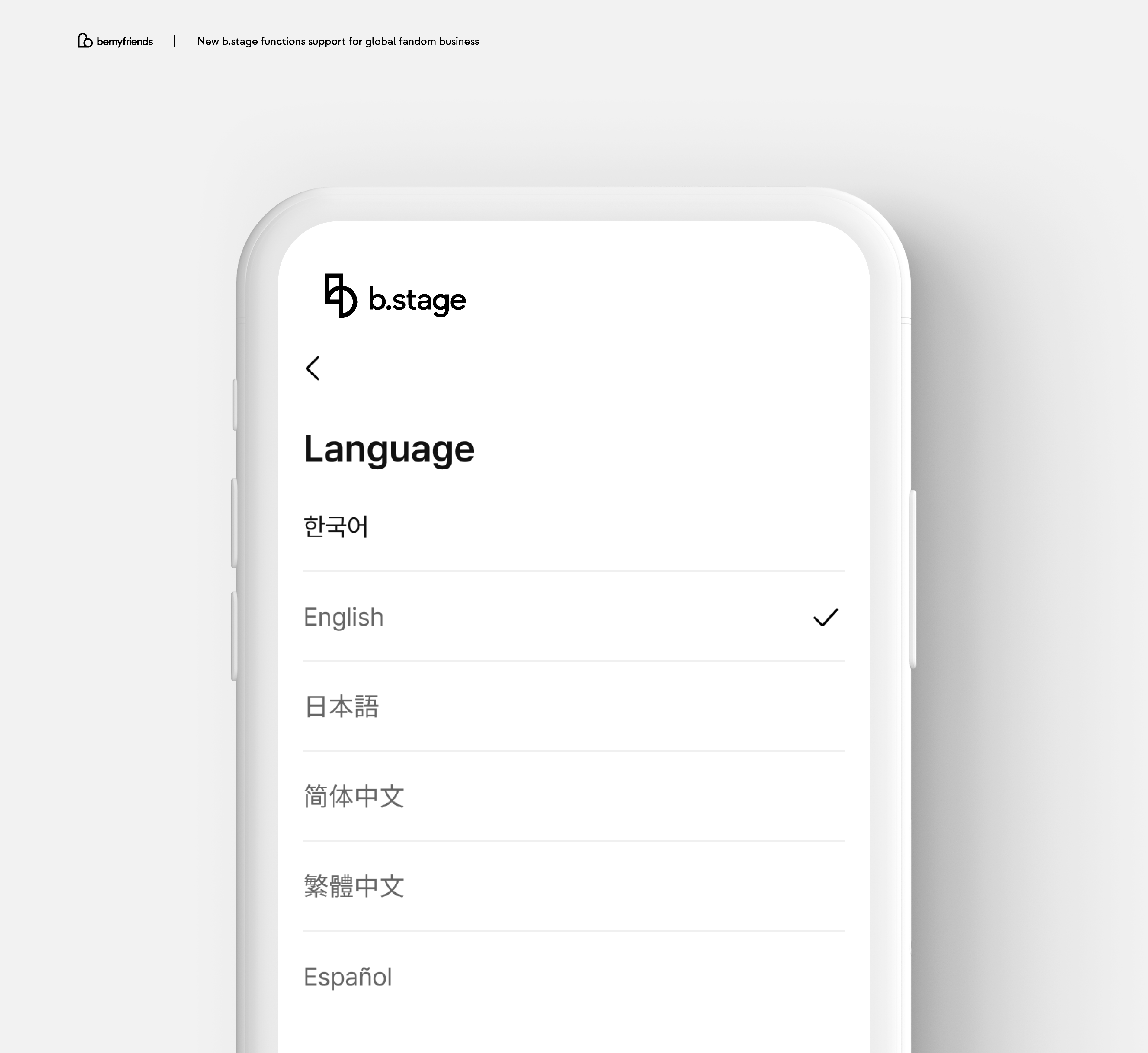 The second enhancement will offer b.stage's owners data on the nationalities of those who visit their platform. In order to empower data-based fandom management, b.stage provides its owners with all data created on their b.stage-powered platform. Now, using the solution's dashboard function, b.stage's owners will be able to quickly and easily view which countries visitors are coming from so they can identify countries with significant influence and update their business strategies accordingly. Providing b.stage's owners with this feature makes it even easier for them to streamline how they manage their global fandom business.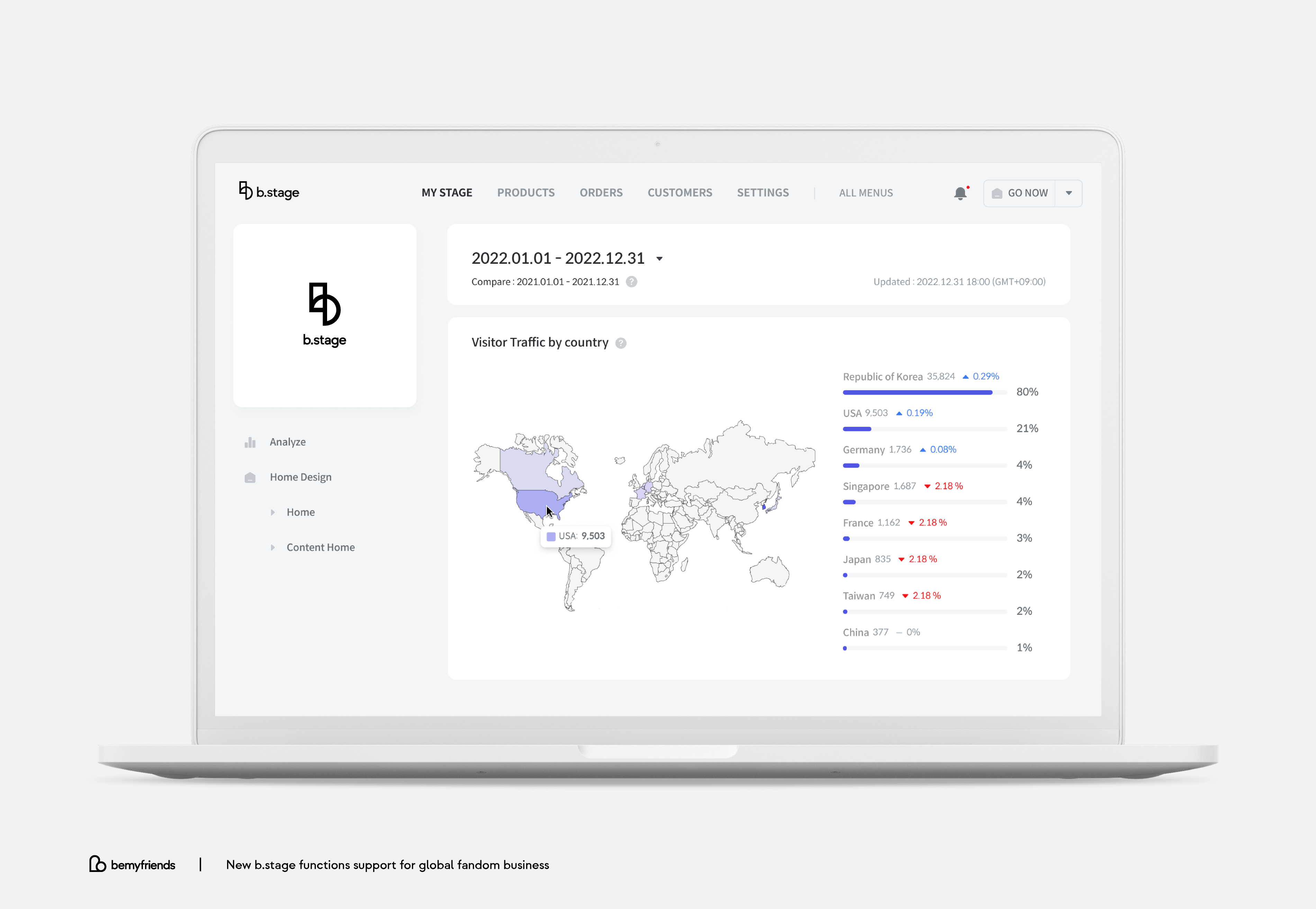 "At bemyfriends, we believe the fandom business has no borders, which is why we have been planning to enhance b.stage with multi-language support and global visitor data since the earliest stages of development," said Brice Lee, co-CEO of bemyfriends. "bemyfriends always considers feature and service development from the perspectives of creators and brands in order to identify what is truly needed. Going forward, bemyfriends will continue to combine simple and convenient solutions with integrated services, making it the best partner for anyone interested in starting a global fandom business."
Meanwhile, bemyfriends has also committed to strengthening the various services required for global fandom management. The company already offers platform owners support for a wide range of necessary services, including content, memberships, communities, e-commerce, shop operations, tangible product sales, and global logistics, and will continue to support fandom businesses' expansion in every respect.