KT Rolster Opens b.stage To Communicate with Global Esports Fans
KT Rolster launches its b.stage-powered membership platform today, January 17, providing exclusive content and direct communication between fans and players.
By using b.stage to communicate with its global fanbase, KT Rolster joins the ranks of other esports teams like T1 and NS RedForce.
bemyfriends provides full-scale support for KT Rolster's sale of member-exclusive products, available for delivery to 208 countries worldwide.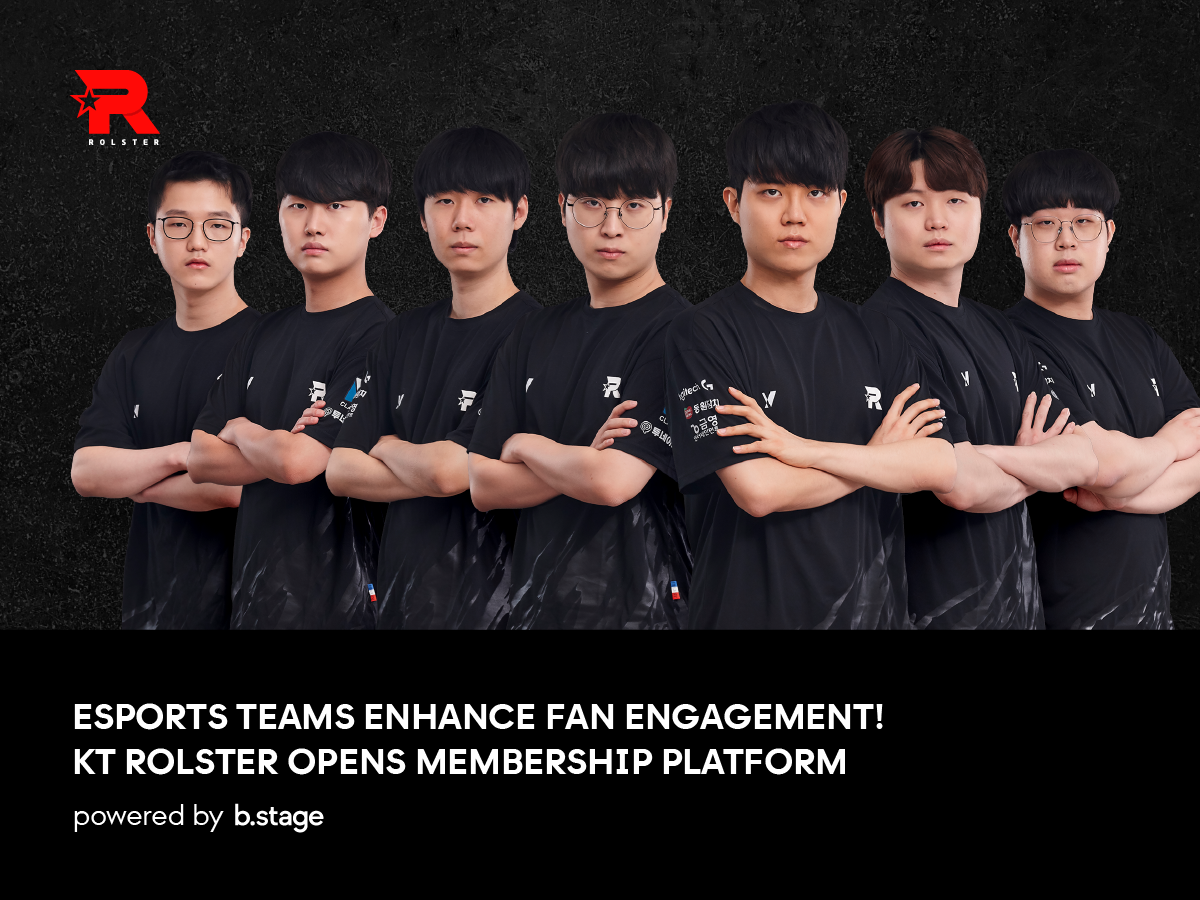 SEOUL, Korea – January 17, 2023 - b.stage, a solution developed by global fandom business builder bemyfriends, has entered the spotlight as a communication platform for esports teams. KT Rolster has announced that it will launch its b.stage-powered membership platform today, January 17, at 2 PM. The platform will serve as a space for communication with fans while providing membership services based on content and commerce.
KT Rolster is one of Korea's representative esports teams. Since its establishment in 1999, the team has built a strong fanbase by participating in various esports games. It is currently operating a League of Legends team that is gaining ground in domestic and international competitions. Amid a flourishing fan culture in the esports sector, KT Rolster is joining the ranks of domestic esports teams using b.stage to enhance communication with their fans.
KT Rolster's b.stage (
https://rolster.bstage.in/
) will be operated as a membership platform ahead of the opening of the 2023 LoL Champions Korea Spring on January 18. Users who register as members will be able to communicate directly with KT Rolster players. Members can also view exclusive content like streaming videos and stories and conduct fan meetings with players like Kim Gi-in, Lee Seung-min, Mun U-chan, Kwak Bo-seong, Kim Ha-ram, Son Si-u, and Han Gil. In addition, the team will also make some content accessible to regular users, meaning there will be something to enjoy for every fan who visits the page.
KT Rolster's member-exclusive products will be available through b.stage's global eCommerce service. bemyfriends provides global logistics operations and agency services that support KT Rolster in selling its products and the overall expansion of the creator economy market. Currently, delivery is available to international fans from 208 countries worldwide, including South Korea, the US, China, and Japan. The number of countries available for international shipping will continue to expand.
"At KT Rolster, we are doing our best to provide fans with joy both in and outside of games," said Sheen Ki-hyuk, KT Rolster's director of operations. "Through the launch of our b.stage platform, we expect to be able to provide members with various benefits while communicating more closely with our fans.".
"b.stage provides all the services necessary to operate a fandom business, including content uploading, community management, memberships, and global eCommerce," said Brice Lee, co-CEO of bemyfriends. "As a result, esports teams like KT Rolster, T1, and NS RedForce have started to use our platform. Based on our technology and rich fandom business experience, we will provide full-scale support to esports teams to enable them to communicate more closely with their fans and secure a highly loyal fandom worldwide."
b.stage enables owners from diverse sectors, including esports teams, K-Pop artists, content creators, streaming services, broadcast media, and other creators, to communicate and actively engage with their fans. Fans of KT Rolster will be able to access content easily through b.stage's desktop and mobile apps.